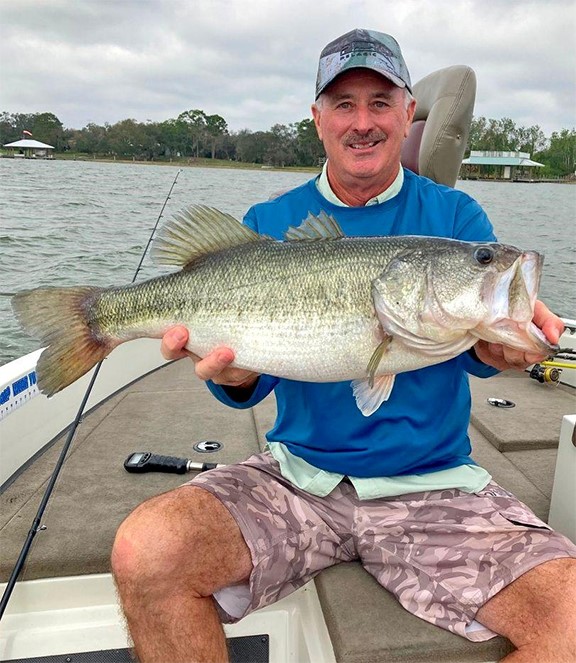 TrophyCatch participant John Wolford demonstrates excellent fish handling technique.
In celebration of the 11th Season of TrophyCatch, we are sharing some of what we've learned from you, our participants, as well as research and data trends from the 10 completed seasons of catch data. We are calling this our "Season of Research," and we are pleased to share the following article about proper bass handling.
We know you care about big bass, which means you also care about how you handle big bass. Especially in recent years, concerns have been voiced about how anglers handle bass during catch-and-release fishing. This prompted Florida Fish and Wildlife Conservation Commission (FWC) and University of Florida biologists to develop a research project to examine this important issue. The results showed that none of the three tested handling methods caused any permanent damage, and there were no differences among handling types on bass feeding or survival. However, there were differences in how long it took the bass to recover based on how they were held.
Bass held with the full support of two hands recovered fastest when released, in less than 10 seconds on average.
Bass held by the jaw with one hand in a tilted, fully horizontal position recovered within 12 seconds on average but required major jaw adjustments in many cases for the fish to return to normal behavior.
Bass held vertically by the jaw with a grip device recovered slowest, within 33 seconds on average, but with NO major jaw adjustments.
TrophyCatch receives occasional comments about how anglers are pictured holding their catch. We recommend a two-handed horizontal hold because it provides the greatest support of a trophy bass and the fastest recovery. In TrophyCatch, the vertical hold is also acceptable, but we still recommend that an angler minimize the time that a bass is supported by only one hand. We do not recommend a horizontally tilted one-hand hold by the jaw.
To learn more, the full article can be found at https://www.trophycatchflorida.com/bass-handling.aspx.
Tight lines,
The TrophyCatch Team