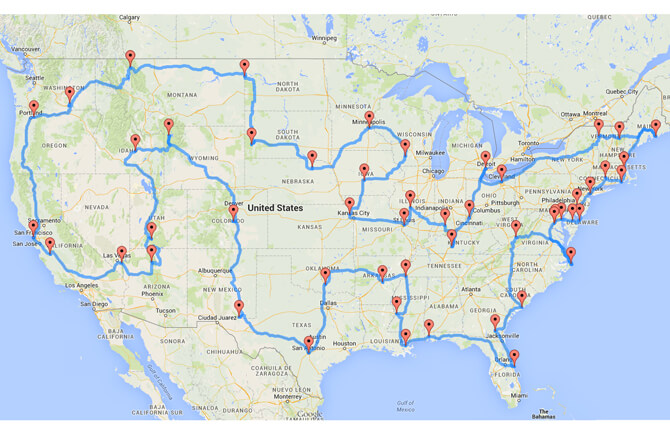 The idea of utilizing scientific evidence in order to plan the perfect road trip might seem silly to some. After all, how can you possibly be sure that they have used the proper algorithms? For most of us, the concept of simply turning our road trips over to science is too far fetched. We only get a limited amount of vacation time each year, so it is important to get the most out of it.
The algorithm that was used to decide on the perfect road trip happens to be a rather sophisticated one. While we certainly have a high level of skepticism here, we must admit that the trip science has come up with is a rather intriguing one that allows travelers to see as much of the continental United States as possible. It is an intriguing road map indeed.
Thanks to the use of this amazing algorithm, travelers are no longer restricted by their location. It does not matter where you live in the United States, because the trip can be started from any number of points. All you need to do in order to enjoy the trip that has been mapped out for you is hop on at the location that has already been chosen for you.
How easy is that? For example, let's say that you live in Utah and you would like to see as much of America as you can in a short period of time. Utah residents can head to Bryce Canyon National Park and from there? It is as easy as following the path that the scientists have laid out for you. We can't lie, we are quickly being won over here.
Best of all, the scientists have chosen a trip that allows you to see a wide range of national landmarks. Would you like to see the Grand Canyon? Or Pikes Peak? Or The Alamo? With this useful itinerary, you no longer have to make these types of difficult decisions on your own. Oh, science, is there any problem that you are unable to solve?
From the looks of this map, there are none. If you or your loved ones are planning on taking a trip in the not so distant future and you are in search of the best possible assistance with these matters, we urge you to take a deeper look at this road map and pass it along to your closest friends and family members.
Here is a list of the monuments you will see:
Grand Canyon, AZ
Bryce Canyon National Park, UT
Craters of the Moon National Monument, ID
Yellowstone National Park, WY
Pikes Peak, CO
Carlsbad Caverns National Park, NM
The Alamo, TX
The Platt Historic District, OK
Toltec Mounds, AR
Elvis Presley's Graceland, TN
Vicksburg National Military Park, MS
French Quarter, New Orleans, LA
USS Alabama, AL
Cape Canaveral Air Force Station, FL
Okefenokee Swamp Park, GA
Fort Sumter National Monument, SC
Lost World Caverns, WV
Wright Brothers National Memorial Visitor Center, NC
Mount Vernon, VA
White House, Washington, DC
Colonial Annapolis Historic District, MD
New Castle Historic District, Delaware
Cape May Historic District, NJ
Liberty Bell, PA
Statue of Liberty, NY
The Mark Twain House & Museum, CT
The Breakers, RI
USS Constitution, MA
Acadia National Park, ME
Mount Washington Hotel, NH
Shelburne Farms, VT
Fox Theater, Detroit, MI
Spring Grove Cemetery, OH
Mammoth Cave National Park, KY
West Baden Springs Hotel, IN
Abraham Lincoln's Home, IL
Gateway Arch, MO
C. W. Parker Carousel Museum, KS
Terrace Hill Governor's Mansion, IA
Taliesin, WI
Fort Snelling, MN
Ashfall Fossil Bed, NE
Mount Rushmore, SD
Fort Union Trading Post, ND
Glacier National Park, MT
Hanford Site, WA
Columbia River Highway, OR
San Francisco Cable Cars, CA
San Andreas Fault, CA
Hoover Dam, NV