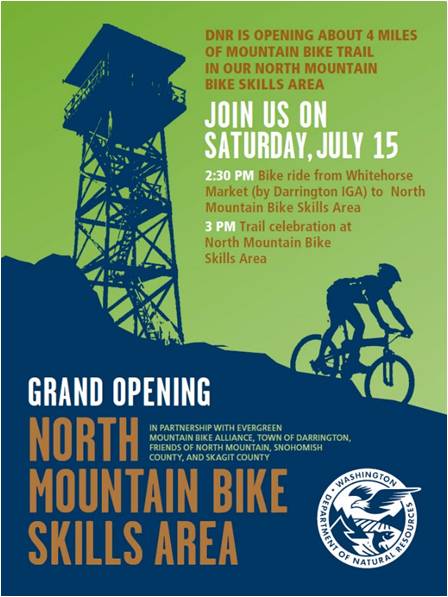 OLYMPIA – In conjunction with Darrington Day, the Washington State Department of Natural Resources (DNR) invites the public to join them, Darrington community leaders, Evergreen Mountain Bike Alliance and other partners at a July 15 grand opening for the new North Mountain Bike Skills Area trails.

The initial nearly 4 miles of mountain bike trail provide opportunities for family friendly, skill-building riding across a variety of loops of varying difficulty. When the trail system is complete, DNR expects to have an additional 13 miles of trail going further up and across the mountain.
"With more trails to come, the skills area offers a taste of the kind of recreation that's going to be so accessible from downtown Darrington—just a couple miles from town," said Glenn Glover, DNR's acting statewide recreation manager. "That proximity is a huge asset for Darrington's youth. Because it will ultimately become a statewide destination for mountain bikers and other visitors, it's also going to be great for local businesses. People will be able to park in town, ride for a day, and come back to enjoy local food and beverages."
DNR invites riders to join them for the trails grand opening at 2:30 p.m. on Saturday, July 15. Riders can meet at the Whitehorse Market (by the Darrington IGA) for a non-technical 2.5-mile ride to the entrance to the North Mountain bike trails for a kiosk unveiling and "popcycle" celebration with Darrington's mayor Dan Rankin, Evergreen Mountain Bike Alliance's Executive Director Yvonne Kraus and DNR staff.
Darrington Day runs from 10 a.m. to 5 p.m. on Saturday, July 15 with events around Darrington. Stop by the Darrington Street Fair to visit with DNR staff at the agency's booth.
For more information about the event, trail entry directions and a trail map, visit DNR's project web page at dnr.wa.gov/DarringtonMTB.