Cocoa Beach:
Just east of Orlando, nestled along the breathtaking Atlantic coastline, lies the charming and vibrant Cocoa Beach, renowned as the birthplace of the iconic Ron Jon Surf Shop and the extraordinary 11-time World Surf League #1 professional surfer, none other than the legendary Kelly Slater. With its captivating beauty and undeniable allure, Cocoa Beach is not only a paradise for seasoned surfers but also a haven for beginners, offering the perfect setting to embark on your exhilarating journey into the thrilling world of wave riding.

South Beach:
Miami's South Beach, a renowned haven for sun-seekers and the affluent, is not only celebrated for its pristine sandy shores and opulent residents. In addition to its luxurious reputation, this vibrant coastal gem also boasts a hidden gem for surf enthusiasts. From the balmy months of July to November, a window of opportunity opens up for those seeking thrilling wave-riding adventures in this tropical paradise. So, while South Beach may be synonymous with lavishness and relaxation, it also offers a pleasant surprise for those seeking a dose of adrenaline-inducing surf escapades.

New Smyrna Beach:
You can find some of the most consistent waves in the state at New Smyrna Beach. This spot is ideal for trick riding, as the waves here are renowned for their reliability and quality. Whether you're an experienced surfer looking to showcase your skills or a beginner wanting to practice new tricks, New Smyrna Beach offers the perfect conditions for all levels of riders. The consistent waves allow for longer rides, giving surfers ample time to execute their tricks with precision and style. The beach's unique geography and positioning make it a magnet for swells, ensuring a steady stream of waves throughout the year. With its consistent wave breaks and ideal trick riding conditions, New Smyrna Beach is a haven for surfers seeking an exhilarating and unforgettable riding experience.

Ponce Inlet:
Smack dab between New Smyrna and Daytona Beach lies the picturesque coastal town of Ponce Inlet. This charming little slice of paradise is nestled along the Atlantic coastline, offering a breathtaking blend of natural beauty and seaside serenity. With its pristine sandy beaches and crystal-clear turquoise waters, Ponce Inlet is a haven for beach lovers and water enthusiasts alike.One of the most captivating features of this coastal gem is the seemingly mystical Shark Shallows, an outer sandbar that boasts an intriguing moniker. Despite its dubious name, this enchanting spot is known to provide exceptional waves, regardless of the swell conditions. Whether you are a seasoned surfer or just starting to ride the waves, Shark Shallows is sure to satisfy your craving for exhilarating aquatic adventures.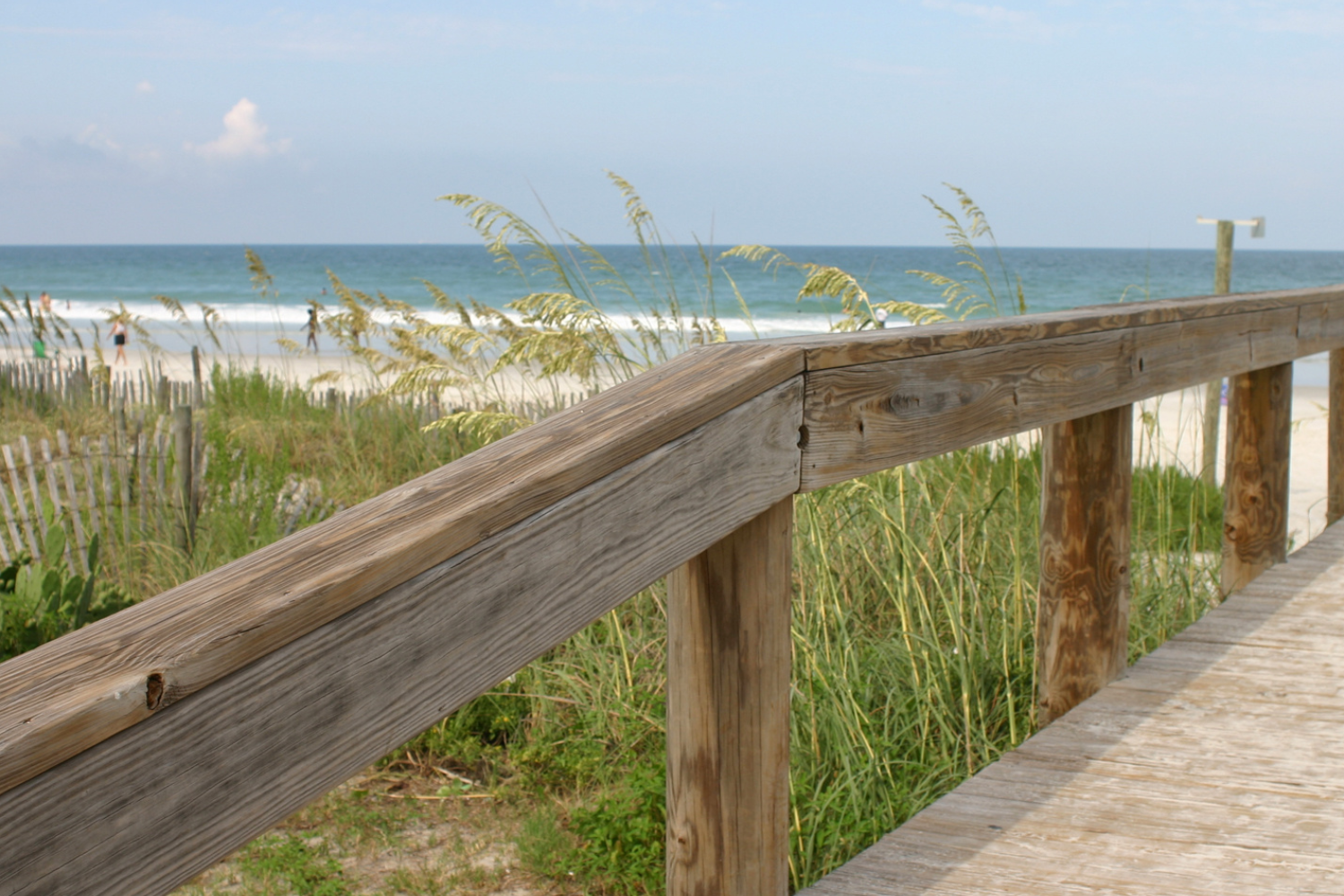 Jacksonville:
Jacksonville is undeniably a vibrant and exhilarating hub that allures surf enthusiasts from far and wide, and it's not difficult to discern why. This illustrious coastal city boasts a plethora of awe-inspiring surf spots that are sure to satiate even the most avid wave-riders. One such coveted location is the renowned Hanna Park, an absolute gem for those seeking adrenaline-pumping breaks, pristine showers to rinse off the salty residue, and, to top it all off, convenient camping facilities for an unforgettable outdoor experience. Whether you're a seasoned surfer or just dipping your toes into the exhilarating world of wave-catching, Jacksonville is undoubtedly a mecca that promises to deliver an unmatched and utterly unforgettable surfing escapade.

St. Augustine:
St. Augustine has not only preserved its historic charm but also cultivated a thriving surf culture that continues to attract locals and tourists alike. From the pristine beaches to the consistent waves, this coastal gem offers an idyllic setting for surfers of all skill levels. St. Augustine's surf scene is deeply rooted in its maritime heritage.The city's surf community is vibrant and tight-knit, characterized by a camaraderie that extends beyond the waves. Locals proudly embrace their coastal identity, and their love for surfing is evident in the numerous surf shops, schools, and events that are scattered throughout the city.
Whether you're a seasoned pro or a curious beginner, there is no shortage of resources to help you dive into this thrilling sport. St. Augustine's beaches offer a variety of surf spots to cater to different preferences and skill levels.

Anastasia Island, St. Augustine:
This pristine coastal destination offers a perfect blend of stunning natural beauty and thrilling waves, making it a haven for surfers of all levels. As you paddle out into the turquoise waters, the salty sea breeze caresses your face, invigorating your senses and preparing you for the adventure that lies ahead. The rhythmic sound of crashing waves creates a soothing symphony, setting the stage for the ultimate surfing session. Anastasia Island boasts a variety of surf breaks that cater to every surfer's preference.
As you stand on your board, feeling the power of the ocean beneath you, a rush of adrenaline courses through your veins. The anticipation builds as you await the perfect wave, ready to ride it with finesse and grace. Surrounded by breathtaking natural landscapes, surfing at Anastasia Island is a sensory feast for the eyes.

Sebastian Inlet:
Located on the east coast of Florida, Sebastian Inlet is renowned for its world-class surf conditions and picturesque surroundings. Whether you're a seasoned pro or a novice just starting out, this destination offers something for everyone. The allure of Sebastian Inlet lies in its consistent surf breaks, which are created by the convergence of the Atlantic Ocean and the Indian River Lagoon. This unique geographical feature creates powerful waves that attract surfers from all over the world. The inlet's sandy bottom and offshore sandbars contribute to the formation of these epic waves, making it an ideal spot for surfers of all skill levels to test their abilities.
The warm Florida weather only enhances this idyllic setting, providing the perfect backdrop for an unforgettable day of surfing. Whether you prefer longboarding, shortboarding, or something in between, Sebastian Inlet offers a variety of waves to suit your style. The powerful swells that roll in from the Atlantic Ocean provide an exhilarating challenge for more experienced surfers, while the smaller waves closer to the shore are ideal for beginners looking to hone their skills. No matter your level of expertise, you'll find plenty of opportunities to catch the perfect wave.

Daytona Beach AKA The Ghetto Pier:
Daytona Beach, located on the eastern coast of Florida, offers a unique blend of stunning natural beauty, a vibrant beach culture, and challenging waves that make it a must-visit destination for every surfer. As you step onto the sandy shores of Daytona Beach, you can feel the warm sun kissing your skin and the refreshing saltwater breeze caressing your face. The Ghetto Pier, a legendary spot among the surfing community, stands tall and proud, offering a perfect vantage point to witness the awe-inspiring spectacle of surfers riding the waves.
The waves at Daytona Beach are renowned for their power and consistency, providing both beginners and seasoned surfers with an unparalleled thrill. The swells here are influenced by a range of factors, including the Gulf Stream, which brings warm water and ideal conditions for wave formation. This, combined with the shape of the coastline and the offshore sandbars, creates a perfect recipe for fantastic surf. The vibrant beach culture at Daytona Beach adds another layer of charm to the surfing experience. You'll find a diverse community of surfers from all walks of life, united by their shared passion for riding the waves. Whether you're a seasoned pro or a beginner eager to learn, the camaraderie and support among surfers here create an inclusive and welcoming environment.
Reef Road

Satellite Beach:
Surfing at Satellite Beach is an exhilarating and thrilling experience that brings together the perfect combination of adrenaline and tranquility. Located in the heart of Florida's Space Coast, Satellite Beach is a hidden gem for surfers of all skill levels.
Surfing at Satellite Beach is not just about the thrill of catching waves; it's also about connecting with nature in a profound and meaningful way. The mesmerizing beauty of the sunrise and sunset paints the sky with vibrant hues, creating a breathtaking backdrop to your surfing adventures. Dolphins playfully surf alongside you, reminding you of the magical world that exists just below the surface.After a long day of riding waves, the beach becomes a sanctuary for relaxation and reflection. As you sit on the sand, watching the waves roll in and out, you can't help but feel a deep sense of gratitude for this incredible experience. The rhythm of the ocean lulls you into a state of tranquility, washing away any worries or stresses that may have plagued your mind.
Please note that conditions can vary and it's always a good idea to check local surf reports before heading out.