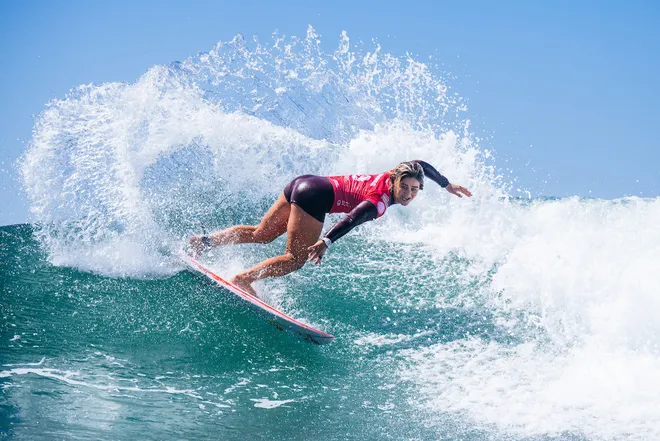 Caroline Marks looked California-stylish in her pink jersey and dark sunglasses Saturday in her first World Surf League's Rip Curl Finals.
She'll look much more fashionable in Team USA's Stars & Stripes colors next year, when she represents America in the 2024 Olympics in Tahiti, and in the equally prestigious yellow jersey that now establishes her legacy in the sport with her first world championship at age 21.
The former Melbourne Beach resident, now living in San Clemente, Calif., just a 10-minute bike ride from Saturday's event at the famed Lower Trestles wave break, produced a near-flawless exhibition of massive backhand snaps and sprays to convincingly win all four of her 35-minute pressure-filled heats, including a two-set sweep against five-time world champion Carissa Moore, 31, of Hawaii.
"This whole week has been magical," said Marks, before being "chaired" off the beach by her brothers in a wild, celebratory scene.
Sometimes still carrying the "Super Grom" label because of her young age, Marks defeated Moore (who will again be her Olympic teammate) by scores of 17.10-14.97 and 14.60-13.53, capping a day in which she entered as the No. 3 seed in the stepladder finals.
"I was just in the flow today," Marks said. "I had a special day with the ocean. ... This is like my second home."