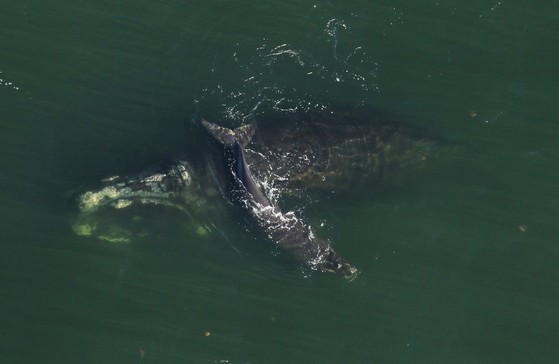 When North Atlantic right whales return this winter to their only known calving grounds off the Georgia and north Florida coast, there will be fewer of them.
NOAA estimates the number of the endangered whales dropped from 412 in January 2018 to 366 in January 2019. The new estimate concerns Clay George, DNR's lead marine mammal biologist. But George said he is more troubled by the species' overall population trend, which has spiraled down after peaking this century at 481 whales in 2011. Those gains have since been lost to whales dying from ship strikes and entanglement in commercial fishing ropes, and a calving downturn caused at least in part by plankton changes in New England and Canada. NOAA has documented 31 deaths and another 11 whales injured since 2017, including the newborn apparently hit by a vessel last winter and now presumed dead. (Update: As of this week, a right whale seen 22 miles off Charleston, S.C., in late October is the only one reported in the Southeast so far this season.)
Despite the nation's political divide, 2020 proved a watershed year for conservation legislation. The latest example: On Oct. 30, President Trump signed into law America's Conservation Enhancement Act, a bipartisan bill that reauthorizes the North American Wetlands Conservation Act, the National Fish and Wildlife Foundation and the Chesapeake Bay Program, while also increasing funding for the Wetlands Conservation Act, which has helped conserve more than 30 million acres of wetlands.