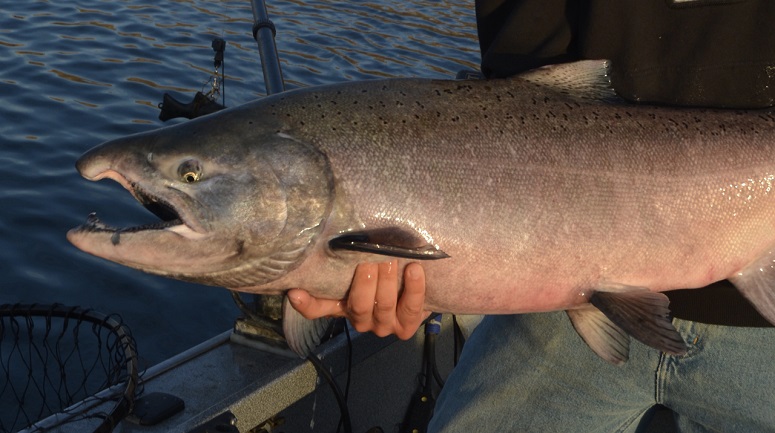 OLYMPIA – The Columbia River is scheduled to open for an additional four days of spring Chinook salmon fishing beginning Friday, state fishery managers have announced.
The Washington Department of Fish and Wildlife (WDFW) and Oregon Department of Fish and Wildlife (ODFW) agreed Wednesday to open the river to recreational spring Chinook fishing above and below Bonneville Dam on May 15, 16, 17, and 20. The river previously opened to spring Chinook for four days earlier this month, following a statewide recreational fishing closure to help combat the spread of COVID-19.
"We saw good effort from anglers earlier this month, and we hope these additional days help others get back on the water as well," said Ryan Lothrop, WDFW's Columbia River fishery manager. "That said, with this year's low forecast and with fishing happening during what's usually the peak of the run, we'll be watching catch numbers carefully and taking a conservative approach to make sure we're staying within our allowable impacts."
Fishery managers agreed to open the following sections of the Columbia River on the designated days:
Below Bonneville: Open for Chinook May 15-17 and May 20 for boat and bank angling from Warrior Rock line upstream to Beacon Rock, plus hand-cast, bank-only angling from Beacon Rock upstream to the Bonneville Dam deadline.
Above Bonneville: Open for Chinook May 15-17 and May 20 from the Tower Island power lines (approximately 6 miles below The Dalles Dam) upstream to Hwy 730 at the Oregon/Washington border, plus the Oregon and Washington banks between Bonneville Dam and the Tower Island power lines (hand-cast deployed only).
For salmon and steelhead in both of these locations, the daily limit is 6, and no more than 2 adults may be retained, of which no more than 1 may be an adult Chinook. Salmon minimum size is 12 inches. Barbless hooks are required.
Above Bonneville, only hatchery Chinook and hatchery steelhead may be retained.
Below Bonneville, only hatchery Chinook, hatchery steelhead and sockeye may be retained. Sockeye are considered adults. Shad retention is also permitted.
Shad fishing opens under permanent rule beginning May 16. Sockeye fishing also opens May 16 on a portion of the river below the Interstate 5 bridge, under a previously adopted emergency rule. That rule can be found at https://fortress.wa.gov/dfw/erules/efishrules/erule.jsp?.
As always, anglers should check the fishing regulations at https://wdfw.wa.gov/fishing/regulations and emergency rule updates at https://fortress.wa.gov/dfw/erules/efishrules/ before heading out.
With the response to the coronavirus pandemic still ongoing, WDFW reminds anglers to be aware of potential restrictions and closures at their intended destinations, and to be prepared to change plans if a site is closed or appears too congested to maintain physical distancing of 6 feet from others. Anglers are also asked to avoid interfering with tribal members who may be fishing for fish to be used in tribal ceremonies and for distribution to elders and family members who cannot travel. During the pandemic, obtaining these fish for their communities has taken on even greater importance than normal.
Visit WDFW's coronavirus updates page at https://wdfw.wa.gov/about/covid-19-updates for the latest information on the department's response to COVID-19.
The Washington Department of Fish and Wildlife is the state agency tasked with preserving, protecting, and perpetuating fish, wildlife, and ecosystems, while providing sustainable fishing, hunting, and other recreation opportunities.
Persons with disabilities who need to receive this information in an alternative format or who need reasonable accommodations to participate in WDFW-sponsored public meetings or other activities may contact Dolores Noyes by phone (360-902-2349), TTY (360-902-2207), or email (dolores.noyes@dfw.wa.gov). For more information, see https://wdfw.wa.gov/accessibility/reasonable_request.html.