Skiers and snowboarders can try out a brand-new lift this weekend or hit up an old favorite at one of the Boise-area mountains whose operations are in full swing. Here's our ski report for the weekend of Dec. 20.
Bogus Basin Mountain Recreation Area
Bogus Basin officials announced Thursday that they would start up their new Morning Star Express chairlift for the first time on Friday. Earlier this year, Bogus replaced its aging Morning Star lift with a new high-speed quad expected to take ride times from 11 minutes down to 3 minutes. It will operate from 10 a.m. to 4:30 p.m. Friday.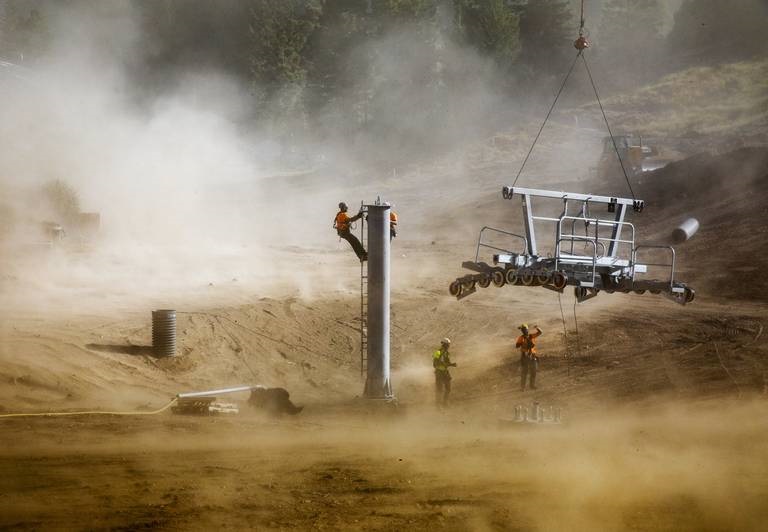 "We are very excited to open our fourth high speed detachable quad chairlift," said Nate Shake, director of mountain operations, in the news release. "This lift will transform the ski and snowboard experience at Bogus Basin by providing better access to novice and intermediate terrain in the winter, while providing faster access to advanced terrain on the back side of the mountain." Bogus will also launch the Superior and Pine Creek chair lifts on Friday. Night skiing at the Boise-area mountain starts Saturday, Dec. 21, and 100% of the mountain will be open beginning this weekend.
Brundage Mountain
Brundage added 8 inches of snow this week, and more is expected. The Lakeview Bowl opened Thursday morning, while Hidden Valley opened earlier in the week. All chairlifts are in operation, and 100% of the McCall mountain is now open, officials said Thursday.
"Conditions were really good for early season already, and this storm we're in the middle of right now is totally buffing things out for the winter break period," Brundage spokeswoman April Whitney said in a news release.
Soldier Mountain
Soldier Mountain, in Fairfield, will open Saturday and Sunday. According to the Soldier website, officials hope to go to a full schedule soon.
Sun Valley Resort
Sun Valley could see more snow, adding to the 24-inch base on the mountain. Only two lifts on Bald Mountain — Lookout and Greyhawk — are closed. Ten other lifts are functioning, while 78 trails are open (34 of which are groomed). On Dollar Mountain, the Elkhorn lift remains closed while four other are up and running. Five runs and three terrain parks are open, too.
Tamarack Resort
Tamarack is still waiting to open its reinstated Wildwood high-speed quad lift. It's hosting a charity auction for seats on the lift's inaugural run. It's not clear when Wildwood will begin running — in a Thursday news release, officials said they still need more snow before operating the lift.
In the meantime, there are three other lifts (Tamarack Express, Summit Express and Discovery) running at Tamarack and 25 runs open.